Andre Chaperon and Michael Hauge – The Hollywood Story Method for Marketers
STORYFLUENCE WORKSHOP: THE HOLLYWOOD STORY METHOD FOR MARKETERS
8:24PM, Saturday night, June 21, 2014, Miami
InterContinental Hotel, Toro Toro Restaurant
THE THREE OF US WERE onto our second bottle of red, so the conversation was becoming more open and fluid.We were sharing stuff that, under normal circumstances, probably would have remained behind the curtain, sealed in a black box.
Amazing steak washed down with expensive wine has an almost magical ability to help with rapport and establish a deeper level of connection.
The conversation had moved onto storytelling.
I mentioned that the better I got at it, the more money I made. Not just through email, but anywhere where people read something I've written.
He said, "You know what I do?"
I waited while Daegan munched down a large chunk of Wagyu cow. "I pay a Hollywood story consultant to coach me."
More chewing. Another slurp of Bordeaux.
"Just one of the stories he's helped me craft allowed me to bring in over $315,000 in just one evening. He's transformed how I think and how I communicate…"
WHEN I RETURNED TO Southern Spain my priority was to reach out to Michael, this superstar Hollywood story consultant.
I set up weekly story coaching with him, every Friday.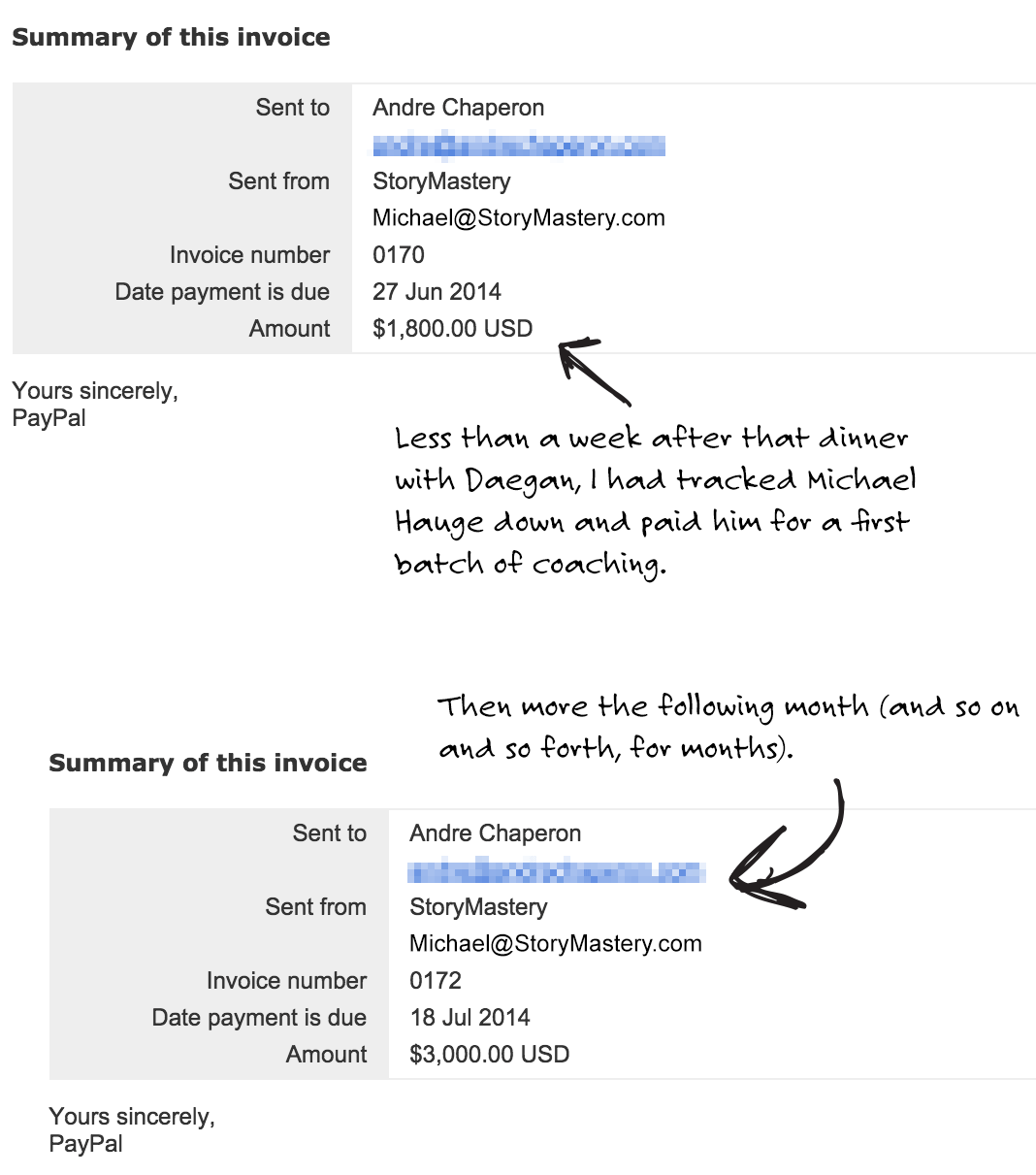 And for the first time, I started to understand why some things I did, intuitively, worked so damn well for me.
… and perhaps more importantly why other stuff I wrote just didn't in comparison.
That's the thing with just operating on a natural and intuitive level. It's not always the best way.
This was a game changer for me.
In August 2014 I ran an intensive email marketing workshop with Mindvalley over 8 weeks…
And on the final week I invited Michael as a guess expert to teach storytelling (and specifically, how to apply it within the context of email).
Students loved it. He blew their heads to pieces.
Some of the before and after emails were honestly hard to believe.
Some stories went from f*cking horrendous (and that's me being kind) to "are you kidding me!" awesome.
Anyhoo…
Introducing Michael Hauge
LET ME INTRODUCE you to my Hollywood story coach and now good friend, Michael Hauge.
Michael is one of Hollywood's top story consultants, and has worked with every major studio on films starring—among many others—Will Smith, Julia Roberts, Tom Cruise, Reese Witherspoon and Morgan Freeman.
… including I Am Legend, Hancock, The Karate Kid, Masters of the Universe and Suicide Squad.
Michael applies those same blockbuster principles in coaching presenters and internet marketers on their stories.
He's damn good at it, too. I guess 35+ years of doing this, helps, eh? ?
Here's a short video of Michael at Daegan Smith & Russell Brunson's Invisible Funnel workshop:
Andre Chaperon and Michael Hauge – The Hollywood Story Method for Marketers