Ben Settle – Copywriting Grab Bag
When using glowing customer testimonials in your ads can actually hurt your sales
---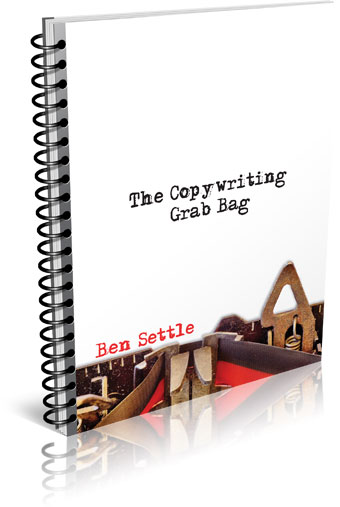 A secret way to use your competition's product or service to sell yours (and without him even knowing about it—Page 116)
Wipe out "writer's block" when writing sales letters… with video games. (Page 16)
How to "skeptic-proof" even your most outrageous claims and promises.  (Page 38)
What to do if you need to write a successful ad quickly—but have no idea where to begin (Pages 132-134)
Dear Friend,
If you want to double (even triple) the money you make from your sales letters… even if you're brand new to copywriting, and struggle with it now… then this letter will show you how.
Here's the story:
My name is Ben Settle.  I'm a direct response copywriter and marketing strategist.  And many of my clients are amongst the world's most successful 7-figure marketers and copywriters —like Ken McCarthy (million-dollar ad writer, and creator of "The System Seminar")… Mike Dillard (multi-million dollar info-marketer who has consulted Robert Kiyosaki's website team)… and Captain Chris Pizzo (#1 marketer in the hyper-competitive self defense niche).
Anyway, here is why this is important for you:
I have created a product (called "The Copywriting Grab Bag") that contains my entire system for writing winning ads for some of the richest and most successful marketers on the Internet.
However, this product is expensive.
There is no money back guarantee.
And, it's NOT for the "casual" copywriter or marketer.
Frankly, most people probably should not invest in it at all.
To help you decide, here are some of the secrets revealed in it:
A sneaky (but 100% legal) way to use your competitor's customer testimonials… in YOUR advertising.  Page 40
How to write money-making ads right out the gate—without needing any special "tricks", formulas or swipe files.  Page 169
A secret way to get paid cash for ezine articles you've already written.  Page 210
The single biggest mistake copywriters make with their email copy.  (This mistake almost guarantees you make a mere fraction of what you could—and should—be making.  See page 296.)
3 ways to write irresistible bullet points that almost force people to buy whatever you sell.  Page 113

How to use an ordinary telephone to double your sales… and without doing any telemarketing. Page 180

The little-known reason why capturing emails could be cutting your profits in half.  (Capturing your customers' email addresses is a "must" online… or is it?  Find out why it could be eating your profits on pages 142-143.)

Why "bad writing" and lots of typos can make you even more sales.  Page 67

How to create professionally produced Internet video ads on a "shoe-string" budget.  Pages 188-190

The best place in your ad to offer an upsell.   (This is easily the most valuable piece of "real estate" for maximum upsells.  Find out where it is, and how to use it, on pages 206-207.)

The exact kind of content to give away on your website if you want to attract the best buyers.  Page 254

The incredible copywriting secret of a 480-pound woman who died while being surgically removed from her couch!  (This tragic news story contains one of the single most powerful copywriting secrets ever discovered.  Use it in your ads, and your response is all but guaranteed to increase—dramatically.)  Page 21

How to use an ordinary one-inch binder to sell more of your services than you ever could with a "sales letter."  (This secret method is used by a world famous "lemon law" lawyer I once hired.  He never has to advertise and people flock to him in droves.  Here's how to use his method in YOUR business.)  Page 43

Why your swipe file could be crippling your sales right now… without you even realizing it.  Page 82

How to wipe out "writer's block" forever… withvideo games. (No more writers block or struggling with the blank page.  Just follow these instructions, and you can turn yourNintendo Wii into a copywritingmachine—working tirelessly on your behalf to create one blockbuster ad idea after another.)  Page 16


How to write ads that turn non-buyers into buyers.  (Works even on annoying "freebie seekers" who never buy anything).  Page 118

Why "boring" headlines often out-pull "exciting" headlines.  Pages 270-271

This is one of "A-List" copywriter Doug D'Anna's most profitable secrets.

Not one in 1,000 copywriters knows about it.  And yet, it can dramatically increase the response of almost any ad you write.

And by the way…

Doug D'Anna's copy has generated over $125 million dollars in sales for direct marketing powerhouses like Phillips Investment Resources, Forbes, Prevention Health Books, Lombardi Publishing, KCI Communications and many others.

He is also widely considered to be one of the world's top copywriters—with endorsements and testimonials from Gary Bencivenga (universally called the "world's greatest copywriter"), Brian Kurtz (vice president of Boardroom), Chris Marrett (Senior group publisher of Phillips Investment Resources), Walter Pierce (President of KCI Communications)… and more.

And some of the little-known secrets Doug reveals in Appendix 7 include:

Why people do NOT buy benefits (and what they do buy instead)… The secret of making people want to buy from you and ONLY you… What Joe Montana (the famous football star) can teach you about copywriting that no "guru" ever will… Why most copywriters should throw their swipe files in the trash… and…

New Book By Top Copywriter Reveals…



How Some Of The World's

Highest Paid Copywriters

Write Their Own Sales Letters,

Emails And Other Ads


Guaranteed to be worth at least 10 times your investment or your money back.
Praised by Ken McCarthy, Terry Dean, Ray Edwards, Ryan Healy and other million-dollar marketers & copywriters who live and die by the results of their ad copy.
Features 11 bonus appendixes containing interviews with the world's most respected direct response copywriters & marketers, including:  Doug D'Anna, Terry Dean, Ken McCarthy, Doberman Dan Gallapoo, Brian Clark, David Deutsch and more.
Plus, for a limited time, get a FREE CD containing all the appendix interviews, a huge 101 ad swipe file, and a bonus report with dozens of "fill-in-the-blanks" bullet point templates—yours to keep no matter what – just for trying the book.
Ben Settle – Copywriting Grab Bag