Jonathan Mizel – Audience Clarity
Amazing New Service Gets Prospects To
Buy More Of Your Stuff Faster…
The secret to boost sales and decode new markets fast
From: Jonathan Mizel
AudienceClarity.com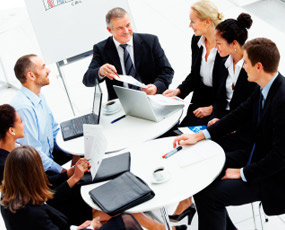 Dear Friend,
If you want to sell more stuff, it's as simple as this:
Figure out exactly what your prospects want.
Parrot their language back to them during the sales process.
Give them the product or service that solves their biggest problem.
You're probably thinking that's easier said than done, but check this out…
That's exactly what we've been doing for the last few years with multiple clients in a wide variety of niches, and the methodology we have perfected boosts response rates, click throughs, and overall conversion.
I'm not talking about about conventional split-testing, although that certainly has its place. I'm talking about a type of "split-testing on steroids." A unique new process that uses surveys to give you faster results (and far more data) for less money. You can use it to boost sales for existing products, or enter a completely new niche or market with complete confidence.
Peek Inside Your Prospect's Head
Extract buying motivations, hidden objections, and highly responsive "power-words," even while you're still in the beginning stage of product development. All leading to increased engagement, stronger response, and bigger profits.
You can pinpoint exactly what your prospects want, give them more value, and make them hot to buy… before you even write the first draft of your sales page.
Instantly increase conversion rates, visitor values, and ROI with data-driven decisions, rather then opinion-driven guesses.
Results we've gotten
Over the past several years, we have developed or consulted on a wide variety of different product releases and launches for ourselves and our clients. Whenever we entered a new market (like Eczema Relief, Garden Products, Gold Investing, Wrinkle Cream, etc.), we used our Audience Clarity Process to pre-test before creating an offer, and sometimes even before creating a product.
The results we got were pretty eye-opening. In many cases, we discovered people were interested in a particular item or service for completely different reasons than we imagined:
One client discovered a new tagline that was 800% more responsive then the original. The beauty of Audience Clarity is that you can find these ROI boosters in literally 24 – 48 hours.
Another realized his domain name was actually killing response. Since this is something that must be decided before you start testing your sales process, Audience Clarity is uniquely able to provide the answers.
Another client completely altered her sales process after discovering that prospects didn't even understand what she was selling (Yikes)!
Not to mention that we use this with our own promotions. Just last year, we completely rebuilt one of our products that bombed, and turned it into a success that still sells like hot-cakes.
In addition to uncovering the strongest headlines, domain names, and benefits, this system generates some pretty amazing intelligence…
Which product name out-pulls the rest?
Which potential bullet points will supercharge response?
What's the strongest slogan or logo?
What keywords engage prospects the most?
Which PPC/banner ads do they click on?
What does your market really want?
Audience Clarity gives you a "meta-view" of what your prospects are looking for…
The positioning that inspires them to take action.
The big ideas that differentiate you from your competition.
The "reasons why" they pull out their credit card and buy.
All for about 50% less than hiring a conventional market research firm, in less than a quarter of the time. We'll help you uncover effective ad copy, keywords, bullets, headlines, product titles, domain names, the look of your landing page, your color scheme, banner ads, text ads, keywords, videos, pretty much anything you can think of.
Can you benefit from Audience Clarity?
If you sell general interest products or market to top-level niches (for example Finance, Health, Self-Improvement, etc.), this is for you.
If you run free or paid traffic to your site, collect leads, build subscriber lists, or launch info-products, Audience Clarity will give you an unfair advantage over your competitors. In fact, it will probably change the way you market forever.
Imagine being able to peel back the layers of mental clutter in your ideal prospect's mind and discover their true motivations, fears, and frustrations. Uncover what makes them tick and turn that intelligence into data that increases your sales response and puts more money in your pocket.
How does it work?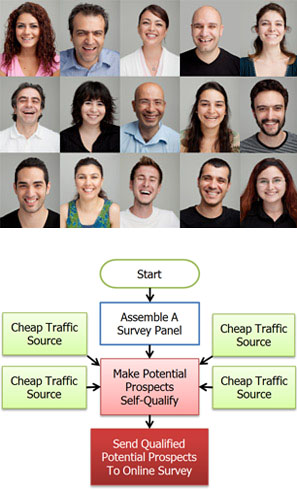 After reviewing your goals, we design anAudience Clarity campaign to that uses voluntary survey takers, people who give their opinion because they want to, not because they are paid or incentivized. Then we use a hyper-qualification process to make sure their responses are useful and accurate.
We target by country so we only survey people in your market region, and by gender. We can even target by keyword or which Web sites they visit if that's important.
Our proprietary methodology plucks the right prospects out of the traffic pool and qualifies respondents based on their likelihood of turning into customers. And then it gets them to reveal what they want.
Audience Clarity lets you cut straight to the heart of your potential prospect's needs and desires, and join the conversation that is already going on in their head. It uncovers their true motivations, their fears, and reveals the "hot button" buzzwords that excite them so you can parrot those words in your sales process.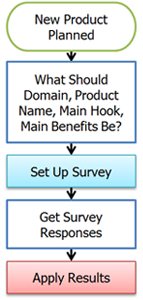 Decode new markets and niches fast
When you're trying to break into a new market and you don't quite have a handle on it (or a mailing list for it), Audience Clarity becomes even more crucial.
Whether you're going into a brand new niche or rolling out a product to an existing market, the decisions about choosing a product name, domain, tagline, and positioning are critical.
This will help you choose the most profitable options with confidence instead of guesswork.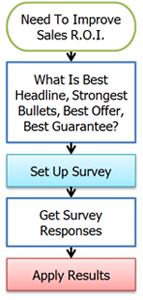 I already have an existing product and
need to improve ROI. Will this work?
Absolutely, Audience Clarity isn't just for new markets and product rollouts.
You can also use these survey panelists to tell you which of your headlines is strongest, which offer is the most compelling, which bullet points have the most impact, and any other elements of your sales process you need to improve.
Why can surveys be more effective than split-testing?
There are multiple reasons why Audience Clarity is more effective and less costly than conventional split-testing:
In markets where you don't already have related customer and subscriber lists, getting visitors to your sales pages can be quite costly (sometimes a few bucks a click). Sending enough traffic to get good data can cost thousands of dollars, especially if you are starting from scratch and don't have a sales process that converts yet.
If you do have an existing customer or prospect list, using it for split testing can give you skewed results because some people may have seen your offer before, and will respond very differently than new prospects. Not to mention that when you send out mixed messages to a small group, you can confuse your list.
Audience Clarity allows for what's known as "Gang Tests" on a lot of minor sales benefits, even bullet points, in a single pass.
How long does it take to get usable data?
Unless you have large amounts of built-in cold traffic already, running a normal split-test could take weeks. By hiring Audience Clarity you can usually get the answers in 3 – 5 working days, even less.
My niche is not general interest, it's more targeted with a smaller universe of prospects. Will this still work for me?
If you are targeting a smaller niche, or are a B to B marketer, or you need to target a group with money (like Gold Investors or millionaires), we can design a custom process that will get you the data you need.
We do all the work, and deliver a usable actionable report on what's working and how to implement it.
Jonathan Mizel – Audience Clarity