Product Launch Coaching – Kim Roach
"Over the Next 30 Days, I'll Personally
Help You Create & Launch a Signature Product
with so Much Built-In Demand
it Practically Sells Itself."
And The Best Part: We'll do all the "Techie" Stuff for you…
If you're a blogger, podcaster, coach, or anyone who wants to cash in on your expertise, then I can show you how to create and launch high-impact products WITHOUT all the traditional tech-hassles. Even if you don't "feel" like an expert, have no idea what sort of product to create, and only have 2 hours per day to work on your business.
Imagine…
You've slaved away for the past 2 months creating your own product.
Late nights… Early mornings… And extra cups of coffee.
But you finally did it!
You'd been talking about it for years.
But your half-finished product continued to gather dust on your hard drive.
Not this time though.
This time you have finished your masterpiece.
It's a thing of beauty.
A work of art.
And with great anticipation…
You launch your baby into the world.
You send out an email to your subscribers and to all of your social media friends
announcing that your first product is finally LIVE!
And then you wait.
And wait…
And wait…
And wait…
The sound of crickets resonates in the air.
You send out another email hoping this is all some big mistake.
But once again…
Crickets.
On the final day of the launch, you check your final stats to discover you made
a measly 10 sales. And one of them was your mom. (thanks, mom)
Your nightmare has just become reality.
After months of hard work, you find out that nobody wants to buy your product.
For an entire week you don't even look at the computer. You think about throwing the whole thing out the window.
Just dropping it straight down from the second-floor window.
"Crash!"
At least that would provide some relief. Some refuge from another failed attempt.
You think to yourself…
"How will I explain this to my spouse? Yet another failed attempt."
It's exhausting to even think about starting all over again.
Or where to even start.
But…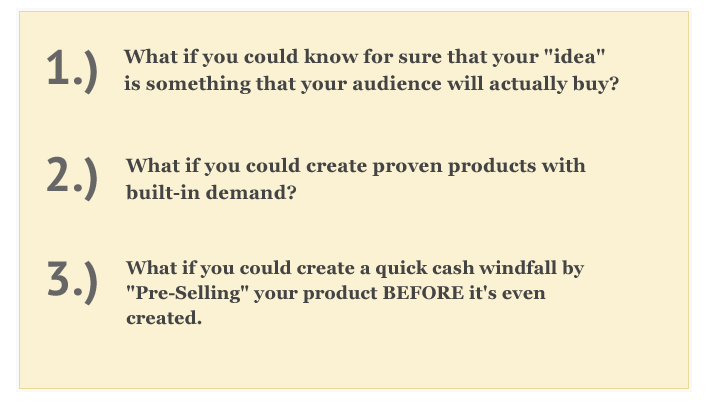 Product Launch Coaching – Kim Roach